This year, I have developed new techniques with crystal beaded strands inside copper frames. Artistically, this has been super satisfying because I now have color and texture to create 3D mandalas, appearing as real art, and making my previous work feel like sketches. When spinning, these new shapes have amazing color, and some excellently show the holographic illusion in the center. Made better than ever, I have made new systems and tools for greater accuracy and production. These shapes are recognized by our own DNA and electrical fields, and can allow access to subtle states of mind for self healing, meditation, creative manifestation, and prayer.
TANTRIC MATRIX, FRACTAL STAR TETRAHEDRON
ROSE QUARTZ, CARNELIAN, TIGER'S EYE
SOLAR STAR
THE STELLATED DODECAHEDRON IS RELATED TO THE ETHER ELEMENT, WHICH IS SOLAR AND ELECTRIC. HELPING TO CREATE OUR DESTINY ALLOWS US TO RELEASE OUR GRIEF FROM THE PAST.
RED CARNELIAN, TIGER'S EYE, LAPIS, TURQUOISE, AYMYTHYST
THE STAR TETRAHEDRON IS THE UNION OF OPPOSITES, AS ONE ASCENDING PYRAMID INTERSECTS A DESCENDING PYRAMID TO CREATE A STAR. THE ACTIVE, DYNAMIC, TRIANGLES OF THE TETRAHEDRON COMBINE TO CREATE THE GROUNDED FORM SQUARE OF THE CUBE. AS THE SIMPLEST OF THE SHAPES, IT IS THE BASIC BUILDING BLOCK OF EVERYTHING, AND HERE IT'S INNER STRUCTURE REVEALS THE FRACTAL NATURE OF REALITY, WITH MANY LITTLE TETRAHEDRONS CREATE THE FRACTAL MATRIX. REPRESENTING THE ELEMENT OF FIRE, THIS SHAPE CAN HELP US ADJUST TO OUR NATURAL INSPIRED PASSIONS, AND USE OUR INNER FIRE CREATIVELY, INSTEAD OF SELF DESTRUCTIVELY. LOOKING ST THE SHAPE PROTECTS THE HUMAN FROM ELECTRICAL POLLUTION, AND HELPS TO AWAKEN THE IMMORTAL POTENTIAL OF THE HUMAN LIGHT BODY
AQUA STAR
THE STELLATED ICOSAHEDRON IS THE CELESTIAL LIGHT IN THE COSMIC WATER. HELPING US TO RESOLVE OUR EMOTIONS, THIS SHAPE RECONNECTS THE WATER CIRCUITS.
THE GENISA STAR, TERA PRANA SPHERE, AND HYPERCUBE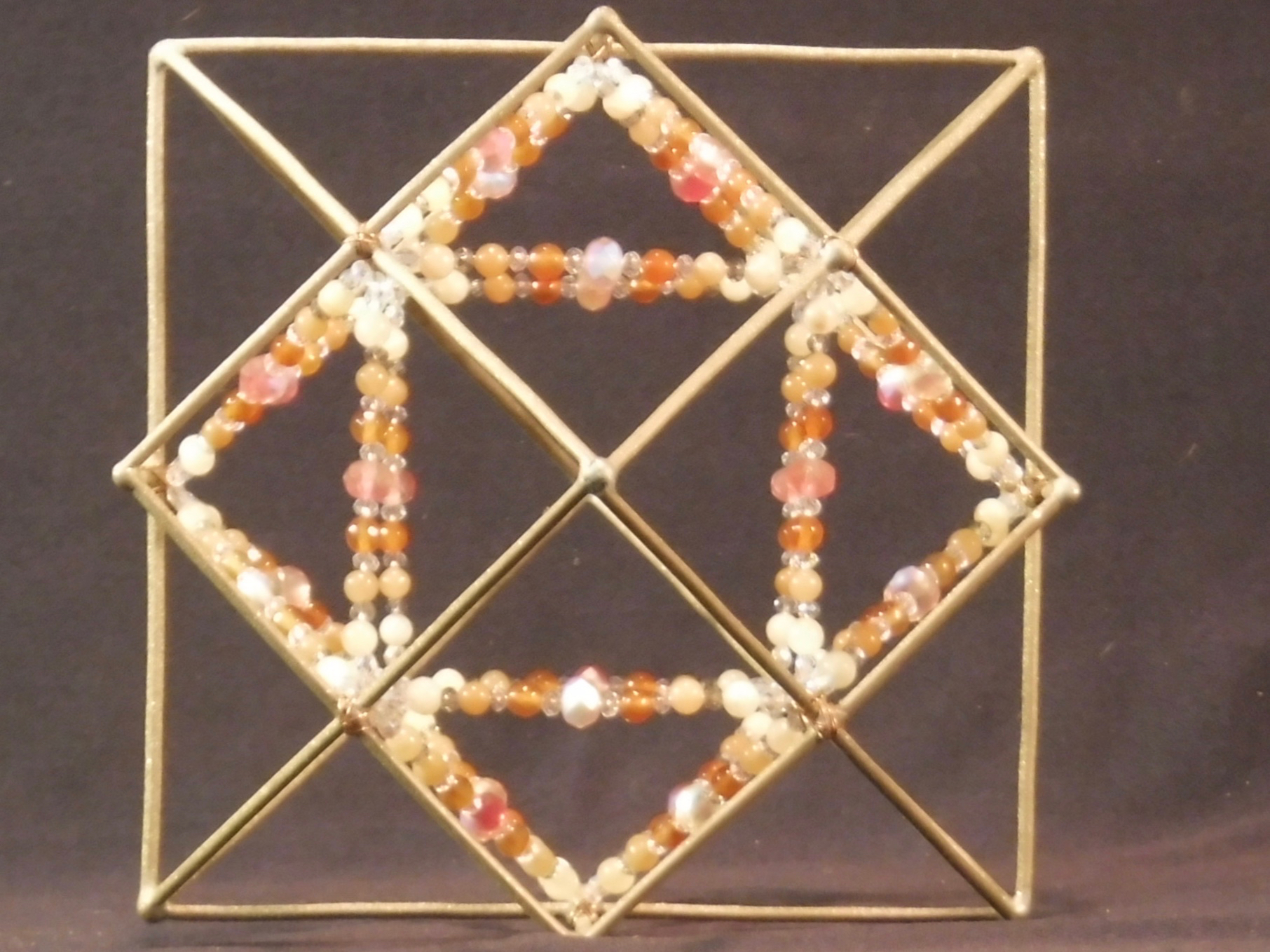 TRANSPARENT THREE DIMENSIONAL GEOMETRIC FORMS
The basic Platonic and Archimedean solids have been crafted with unique construction techniques, revealing the relationships between them in hands on learning tools. Related to the elements of nature, Earth, Water, Air, Fire, and Ether (electricity), these shapes also communicate with our DNA, allowing our human electric field to reorganize in a harmonious way, in integrity with our Original Pattern.
Copper Truncated Icosahedron
The 20 triangle Icosahedron has five triangles at each corner. The Triangles have their corners cut to become hexagons, and the corners then become pentagons, showing the 20 hexagon, 12 pentagon Truncated Icosahedron
Copper Stellated Dodecahedron
This shape has twelve corners, each is a tip of a pyramid. Each pyramid has a pentagon base, and the twelve pentagons come together to make a dodecahedron. Each pentagon extends out to become a five pointed star, by extending out a Phi ratio extension in both directions, to meet the lines coming from the other pentagons. The extensions are called stellations, referring to it's star like appearance.